When you buy a home, it doesn't come with a fence and deck maintenance manual, so naturally, we receive a lot of questions about Nashville deck cleaning or fence restoration from our clients.  A lot of contractors will lead you to believe that cleaning and prepping your wooden structure is super complicated, and they will throw out a ton of fancy chemical names and lingo. Many times, this is just a sales pitch to get you to hire their company. While it's true that you need some information before starting a job, deck cleaning or fence restoration is a pretty simple process.
Tip 1.  Is Cleaning Really Necessary?
The truth of the matter is, if you have a brand new fence or deck it probably needs little more than a quick sweeping to remove leaves and debris on the surface of the deck or at the base of the fence. On some high-end projects, it is not uncommon for our team to do a light deck cleaning to remove footprints, dirt, and lumber stamps on brand new wood, but it should not need anything more. 
At the other end of the spectrum, an older fence or deck, especially in our Middle Tennessee climate, can obviously need to be cleaned as soon as 6-8 months after installation. Wood begins to deteriorate as soon as it is cut, so the sooner we can apply a high-quality oil-based stain and sealer to preserve the wood the better!  If your fence has turned gray or has begun to show black mold, then now is the time to act.

Tip 2.  Any Cleaning is Better Than None at All  
There is an age-old debate on how to clean and what to use.  If you ask ten contractors, you will likely get ten different answers. The mold, mildew, and grime on your wood fence or deck have got to go but you may not know how to go about removing it. Honestly, just about any method mentioned will work well and give better results than doing nothing!
Option 1: Simply wet the fence down, scrub with a brush, and then rinse again. This works by removing grime but does not kill the mold and mildew that will eventually destroy your investment. 
Option 2: Most common in our Nashville staining market is to use a chlorine bleach solution at a 1:1 ratio to clean your fence or deck to kill the mold and mildew, remove oxidation, and brighten the fence.  Simply put – bleach works. There is no doubt about it! Some contractors will turn up their noses at this method, probably because you simply cannot charge very much money for this service. In some cases, after the wood is cleaned with bleach, you do get an unnatural light color to the wood. However, if you're staining your fence with Coffee Brown or Cedar Tone stain, does it really matter?  
Similar to bleaching dark hair before adding a new color tone, bleaching wood creates a clean slate and consistent coloring so that once the stain is applied, everything is uniform. Is bleaching for everyone? No. Is it an effective way to clean your fence or deck before staining? Absolutely!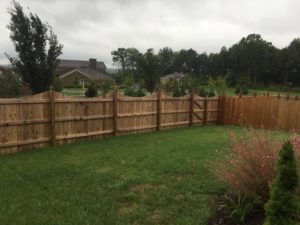 Tip 3. Use a High-End Cleaning Service
Our third option is what you might refer to as a high-end cleaning service.  This is a three-step process, and we do recommend this method if your budget allows.  
Step 1: Apply Specialized Wood Cleaning Solution
Our three-step process starts with a sodium percarbonate cleaning solution applied to the surface of the wood.  This solution needs a little time to work its magic, but it will penetrate deep into the wood to kill the mold and mildew and loosen the dirt and debris on the surface of the wood.  
Step 2: Pressure Wash the Wood Fence or Deck
Now, it's time to pressure wash.  In Tennessee, our most common wood fence and deck types are treated pine and red western cedar.  With these wood types, it is imperative that you do not go overboard while pressure washing.  We want to use a relatively low pressure to simply wash away the dirt and grime.  Some Nashville pressure washing companies will clean your fence or deck with extremely high pressure, and while it looks good at first, it can destroy the wood and cause felting, causing your fence to look permanently "fuzzy".
Step 3: Apply Wood Brightener
Once the pressure washing is complete, we want to adjust the PH level of the wood with a brightener.  The brightener is what will give you that beautiful brand-new look and create a great canvas to apply a high-quality oil-based stain and sealer. 
At Stain and Seal Experts, we carry a full line of wood restoration cleaners, strippers and brighteners that are formulated specifically for the best quality and longest-lasting outcome possible in any wood restoration project you may have. You may need a degreaser, a stain lifter, or an eco cleaner. Speak to one of our team experts to discover which products are best for your specific fence or deck needs.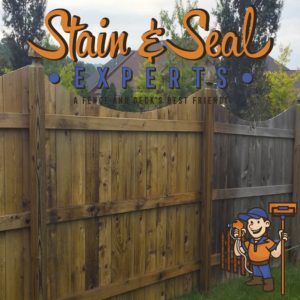 Tip 4. Apply a Deep Penetrating Oil-Based Stain and Sealer
We all know that no project is complete until it is fully finished, so be sure to do the final step! We are talking about a deep penetrating oil-based stain and sealer in one.  High-quality stains will seep into the top layers of your wood and seal it to prevent water absorption keeping rot and warping at bay for a long time.
In our Middle Tennessee Fence Staining market, we provide a line of professional-grade wood care products that come in a variety of colors that are sure to match the look you want! Maximize the life and beauty of the exterior wood at your home or business with stains that come in transparent, semi-transparent, and semi-solid color options. All of the stains we offer can be used to seal any outdoor wood structures you need to protect!
Stain and Seal Experts Are Here to Help!
No matter what wood restoration or installation project you have, our team of experts is available and happy to assist in any way we can. You can reach us by phone at (615) 785-1861 or through email anytime you please!