As Nashville's largest fence staining company, we have to align ourselves with the best products on the market today in order to meet the year around demand our clients require. Factoring in the weather for everything we do, it's a fact that Nashville weather can change abruptly making deck staining or fence painting a more difficult task.
The good news is we have specially formulated product solutions that allow us the versatility to work all year long!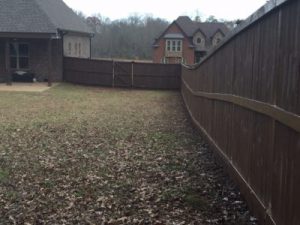 Guidelines for Wood Staining in the Tennessee Winter
Middle Tennessee fence staining is a year round thing in the south! In order to accomplish the best outcomes possible, we have a few guidelines that we will go over that keep us staining fences and decks even in December, January and February.
Checking Moisture Content of Tennessee Winter Climate
Moisture content is the single most important thing to check anytime throughout the year in Tennessee before starting to stain your wood fence or deck. A moisture level of 12-13% or less is ideal for staining all year round. It can be very humid in Nashville and across many areas of Middle Tennessee, but you can easily check your fence or deck with a moisture meter found at any of the usual big box hardware stores for less than $40.
Extra tip: Traditionally treated pine wood fences and decks will take a little longer to dry out than cedar, so keep that in mind as you plan your wood fence or deck project.
Watching the Temperature Level in the Nashville Area
Another important thing to watch is the outside temperature at your Tennessee property. With a high-quality oil-based stain like the Stain and Seal Experts line of products, you don't have to worry about freezing issues because oil does not freeze. Still, it's important to check that your wood is not frozen before starting your project. Generally, Tennessee has pretty mild winters and winter day time temperatures above 36 degrees usually make great days to stain your fence! Always take into account the overnight temperatures, too. If it was 5 below zero last night and it just got up to 36 degrees for a short time during the day, it may be best to wait until a warmer day.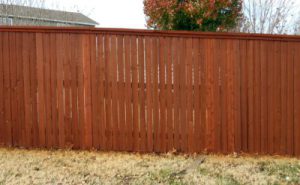 When is the Best Time of Year to Stain and Seal in Tennessee?
A lot of people express concern to us that they are very disappointed that they have to wait until spring to stain their wood fence or deck, but it's just not true. The best time for deck staining or fence staining in cities like Murfreesboro, Nashville, Franklin, Mt. Juliet and throughout Middle Tennessee is as soon as possible after construction if it meets our moisture and temperature requirements.
There has never been a better time to stain that new wooden privacy fence than right now! Staining in the winter can actually save you money because you will most likely have to clean the wood before staining if you wait until the springtime once mold and mildew has already started to build up.
If you are wondering if your fence is ready, reach out to the pros at Stain and Seal Experts and we can come to you for a free wood consultation and fence staining estimate to show you exactly what your wood is doing.
Discover the Expert Difference from Stain and Seal Experts!
Our mission for property owners in Tennessee is to give you the most outstanding customer experience possible. For more staining tips check out other articles in our blog page or visit The Stain and Seal Experts Podcast for all kinds of tips, tricks and interviews with staining experts from around the globe. We also have lots of resources on our YouTube channel that can provide you with the answers you need.
When you'd like to speak to a professional directly, reach out to our team by phone at (615) 785-1861 or through email anytime. We are here to help!